Is Your Business Prepared For Every Emergency?
Thermal Temperature Scanning, Security Guard Services, Front Desk / Doorman Services, Security Consulting, EAPs, Evacuation Diagrams
Black Knight Security (BKS) offers services that arm you with the knowledge and tools needed to handle emergencies with confidence. The BKS team will start by working with you to evaluate security needs. Next, BKS will determine the services that will maximize your property's security posture – helping you to prepare for the unexpected.
Thermal Temperature Scanning
Black Knight Security is now offering affordable thermal scanning services to equip you with the tools necessary to be prepared in these uncertain times. Our thermal scanning system will assist you in getting all entrants in your building quickly and safely to give you the best protection possible against COVID-19 and other viruses. The BKS team will start by working with you to evaluate your thermal scanning needs and develop a procedure that will safely maximize traffic flow to your building.
Our fast, automated screening system meets FDA guidelines and adheres to all CDC recommendations. It ensures the safety and dignity of all entrants and is installed and run by trained professionals.
For more information please watch this short video to the right.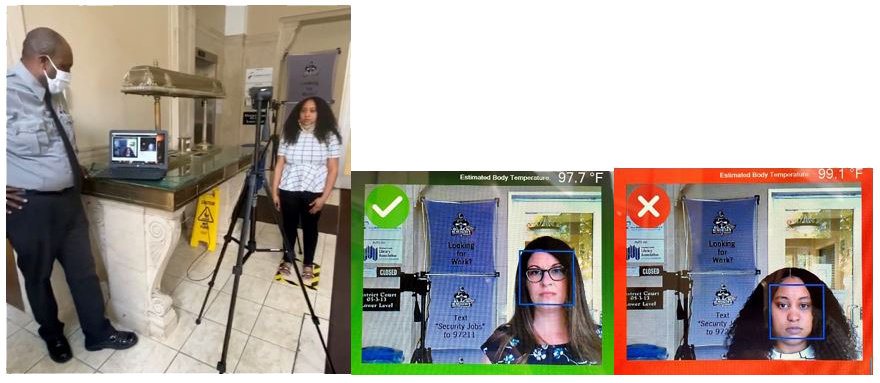 Professional Security Guards
Safety and preparedness begin with Black Knight Security guards – men and women who have completed thorough training before they are permitted to wear the BKS uniform. But training doesn't stop there – Black Knight Security employees are constantly required to update their training as needs change. BKS training programs are highly developed and professionally executed to not only educate, but also to motivate employees. All Black Knight Security employees are certified by the American Heart Association to perform first aid and CPR, and on the use of an automated external defibrillator (AED). This additional certification, typically unheard of in the security industry, is just one of the many ways that BKS is raising the industry standard. When you hire BKS, you'll get professional, dependable and attentive security guards who will go beyond their regular duties to ensure that your environment runs as smooth and incident free as possible.
Through Black Knight Security's detailed pre-employment screening process, we make certain that the men and women protecting your property are people of character, skill and knowledge. Employment candidates undergo background checks, drug tests and must pass an honesty test.
To ensure low employee turnover, BKS provides employee incentives and benefits otherwise unheard of in the industry.
BKS offers permanent and temporary security guard services to encompass the needs of our diverse clientele which includes:
Major Industrial Facilities
Shopping Centers
Homeowner Associations
Commercial Real Estate
Residential Real Estate
Non-Profit Organizations
Pharmaceuticals
Educational Institutions

Residential Doorman and Concierge Services
Have you been looking to find a quality customer service trained front desk security provider?
Does your dedicated front door staff fail to support those very same employees that are greeting and attending to your residents everyday?
Are you ready to improve  your front desk staff to new quality driven service provider?
At Black Knight Security we can customize a security program with residential/front desk white glove staffing model for condominium or homeowner associations in the Pittsburgh and Chicago markets. 
Whether your building or association requires a door staff or front desk staffing, Black Knight Security stands ready to provide union (SEIU Local 1 or SEIU 32BJ) or non-union staffing to your building.
BKS employees assigned to your building is responsible for delivering exceptional service for your guests and residents.  The mere presence of a 24/7 by a BKS employee gives your building an extra level of security, hospitality, and professionalism your residents deserve.
Your front desk staff would be outfitted in a suit and tie rather than a typical guard uniform, but this does not alter his or her duties in any way. Given the nature of your business, a visitor's first impression is likely to be better when the person greeting them is not completely imposing.
Duties can include:
Greeting, checking in, and directing visitors.
Access Control
Identifying maintenance issues and reporting
Maintaining constant surveillance of assigned areas
Managing the packaging system for residents
Providing customer service for residents, visitors, and/or guests
Writing accident and incident reports for any suspicious activities or safety hazards
Responding to calls for assistance
Checking bags and packages, as needed

Security Consulting
Black Knight Security (BKS) offers consulting services that can help you evaluate your current level of security and determine if you need a change in service. To make this determination, we can perform a security survey and an audit/analysis of your current security provider's services. Additionally, BKS can oversee security project implementation, such as access system upgrades or installation of Closed Circuit Television (CCTV).
Emergency Action Plans (EAPs)
Emergency action plans are critical – well-developed plans and proper employee training are proven to result in fewer injuries and less structural damage during emergencies. The Occupational Safety and Health Administration (OSHA) requires that all companies have an emergency action plan for use during fires or other dangerous situations. Don't let your plan simply be a formality – BKS can establish a detailed emergency plan for your company that will act as a resource in keeping employees, tenants and visitors safe.

Evacuation Diagrams
Evacuation diagrams aren't simply an Occupational Safety and Health Administration (OSHA) requirement, but are an important piece of safety equipment for property managers, building owners and tenants alike. Black Knight Security can develop a comprehensive and easily understood evacuation diagram and post it throughout your facility.
Diagrams include locations of all emergency exits, fire extinguishers, alarm pull stations, stairwells and first aid kits, as well as primary and secondary evacuation routes. Black Knight Security will also train tenants on safe evacuation and proper usage of a fire extinguisher.
CPR, AED and First Aid Training
More than a half million people suffer from cardiac arrest each year. On average it takes paramedics six minutes to arrive and up to nine minutes to begin giving lifesaving care. By that time, brain damage may have already occurred. BKS offers training classes with the latest techniques from the American Heart Association guidelines so that you are always prepared for the unexpected.

Lifesaving skills taught include:
Determining unconsciousness
Clearing an obstructed airway
Rescue breathing
Performing CPR
Usage of an automated external defibrillator (AED)
Black Knight Security also provides training options for standard First Aid as well as Wellness Training and Education programs.
Request More Information